Tank Commanders,
The Hall of Fame 2016 announcements are coming to an end. For the past few months, we've told you all about the various rewards and the best players who have qualified for them - now, we're ready to reveal the final prize.
---
Last Reveal: Numbered Bomber Jacket
The Top 10 players in Hall of Fame 2016 will be receiving a very special bomber jacket. Each jacket is embossed with a number, which correlates with the receiver's rank in the Hall of Fame.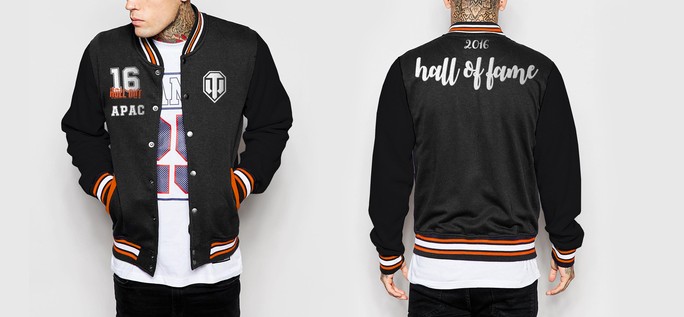 Please note that images are not indicative of the final product design.
Important!

Please note that players may receive more than 1 reward if their rank qualifies them for it. For example, a Rank 25 player will be given the Jeans, Belt, Hoodie and T-Shirt reward, while a Rank 50 player will receive the Belt, Hoodie and T-shirt.
Shipping Rewards
We're also glad to announce that we'll begin shipping all Hall of Fame prizes from the end of October onwards!
Please note that the exact dates might vary depending on the region and that there might be slight delays due to the large amount of players being awarded. So please be patient!
---
About the Hall of Fame
The Hall of Fame was created in celebration of Wargaming's players and their passion for gaming across the APAC region. By making their way into the Hall of Fame, players across several titles such as World of Tanks PC and Console, World of Tanks Blitz, and World of Warships receive fantastic prizes for their achievements.
To learn more about the Hall Of Fame, click here.
If you're wondering just how we judge the battle stats and your achievements, check out the links below for more details:
---
Previous News