1. Update 1.4.1 Common Test
Updated
Spring is right around the corner, and alongside the new season, a fresh update is coming to World of Tanks! In the upcoming Update 1.4.1, we will treat you to special gifts called "Random Rewards". In addition, we're introducing new opportunities for Crew customization, Crew Skins.
Okay, let's get down to the heart of the matter.
Random Rewards
With Update 1.4.1, we're introducing "Random Rewards". As you may have guessed, these will drop with a certain probability when playing Tier V-X vehicles. They will be awarded for a strong performance in battle, so: the more effective your actions and the higher you are in your team by experience earned (top 3, top 5, etc.), the more likely you are to get a Random Reward. After each battle in which you could, but didn't receive a Reward, the probability of getting one in the next battle increases.
Okay, exactly what are these Random Rewards?
To celebrate your performance in battle, you can earn:
Consumables

Credits

Bonds

And some more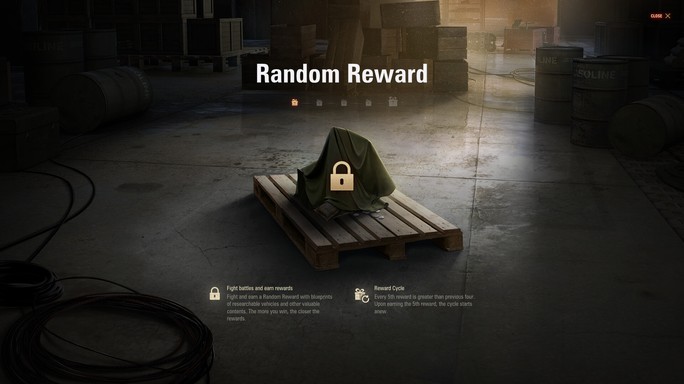 In your Garage, there will be a special "probability indicator" that displays the chance of getting a Random Reward. It will be implemented as a special icon with three gradations, each of which shows the probability of receiving a Reward in future battles. When you receive a Random Reward the probability is reset and the process repeats.
NOTE: The probability of receiving Random Rewards is influenced not only by your actions, but also by your behavior on the battlefield. If you break the game rules, then your probability of receiving a Random Reward for a given battle won't increase.
There will be 2 types of Random Rewards: small and large. The first four rewards you earn will be small and the fifth will be large and of course, the contents of a large reward will be more valuable.
Pay attention: Random Rewards do not accumulate and open immediately upon receipt (at the end of a battle).
Note: The composition and the frequency for receiving Random Rewards for the Common test are not final. After the release of the Update, we'll change both of these parameters. Now we want you to test this new feature and share your feedback.
Crew Skins
Another significant feature of the upcoming update is a new type of customization, Crew Skins. Thanks to this feature, you can momentarily replace Crew members of your vehicles with either real historical figures or fancy, cool and even slightly strange characters.

The first 3 Crew Skins will be credited to your account for free with the upcoming update. More Crew Skins will be available in the Random Rewards you earn.
NOTE: We plan to have memes and funny characters that can take place of any Crew members, without restriction of vehicle class or nation. However, Crew Skins with historical personas will have restrictions based on the nation and the specialisation of the Crew member. Crew Skins will be available only in large Random Rewards.
All regions will have with their own sets of Crew Skins with predefined information (avatar/photo image, first and last name).
You can apply each Crew Skin to only one Crew member and will have to remove it if you want to use it for another Crew member. Both the application and removal of Crew Skins are free of charge and any unused Crew Skins will be kept in your Personal File.
To apply Crew Skins, you need to go into the Personal File of your Crew members and manually select the desired Skins.
Blueprints
Note: This is a brief overview. A dedicated article will be coming soon, going into more detail on this new feature.
Blueprints are special content items that you can get from Random Rewards and can be used to get discounts when you research new tanks.
The higher the vehicle Tier, the more Blueprints it's made up of and with every Blueprint you receive, your discount grows. This means if you collect every single Blueprint of a specific tank, you will receive a 100% XP discount on the research cost of the vehicle.
NOTE: Blueprints can only be obtained from Random Rewards. They are not purchasable for Credits, Gold or real money.
You don't have to collect all the Blueprints to take advantage of them, but the more you have, the bigger the discount you will receive.
Blueprints will drop at random and are available for vehicles of all branches and nations from Tier II to Tier X, including vehicles that you have already researched. To make it easier for you to track the number of collected Blueprints, we'll introduce special progress bars, divided into sections. After receiving a Blueprint, one of the respective sections will be filled in.
If you get a Blueprint for a vehicle, which you have either researched or have all the necessary Blueprints already, it will turn into a "national" or a "universal" Blueprint. National Blueprints can be used on any vehicle of their respective nation (for example, if you receive a national Blueprint for France, it can be used on any vehicle in the French tech tree), while universal Blueprints can be used on any vehicle of any nation.
Please note: you can convert only "national" and "universal" Blueprints, but Blueprints that you already have for a specific tank cannot be converted. You may find out that you already have a discount for some vehicles right in your Research tab.
Attention: The discount will be granted on the research cost of a tank, but not its modules!
Keep an eye out for all the details regarding Blueprints and the future of this feature in a dedicated article to be published later. Stay tuned!